With the ongoing corona virus pandemic, chess tournaments have ceased. Online events like the Magnus Carlsen Invitational and now the FIDE Online Nations Cup have filled the breach.
The games are broadcast on chess.com and elsewhere.
The Format of the FIDE Online Nations Cup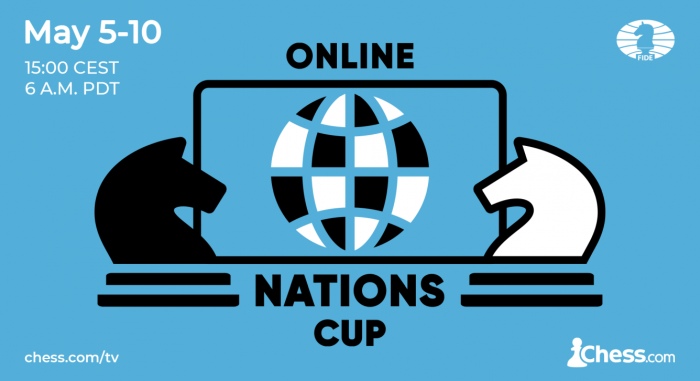 The games are played with a time control of 25+10 (25 minutes for the entire game plus an additional 10 seconds per move starting from move 1).
There are six teams in the event with six players each; four male and two female players.
Each match is contested on four boards. On Boards 1,2, and 3 a team chooses three of its four male players to play. On Board 4, a team chooses one of its two female players to play.
2½ points out of 4 are needed to win a match, and all boards count equally.
The team that wins each match gets 2 points and the loser 0. In case of a 2-2 tie, each team receives 1 match point.
It's a double round-robin team tournament, so each team faces the other five teams twice for a total of 10 rounds. After 10 rounds, the two highest-scoring teams play a final match on May 10. The team with the highest score going into the final gets draw odds; in other words, if the final match is tied 2-2, the team with the highest score in the round-robin phase wins the event.
Every team gets $24,000 for participating. After 10 rounds, the two top scoring teams face off in a final match for the FIDE Nations Cup. The team runner-up gets an additional $12,000 ($36,000 total for the team), and the winner of the Cup gets an additional $24,000 ($48,000 for the team).
The Teams
Four top nations are invited, and then two other "compilations" of teams were added.
The countries invited were China, India, Russia, and the United States.
The two additional teams were Team Europe and Team Rest of World.
Every team brought most of their top male and female players! The captains were notable too.
The Players and Captains of the FIDE Online Nations Cup
China
The male players included 2020 Candidates Ding Liren and Wang Hao, plus Wei Yi and Yu Yangyi. Even scarier for the rest of the field were their female players: the return of 3-time Women's World Champion Hou Yifan, and current Women's World Champion Ju Wenjun.
Having won two of the last three Olympiads and the last two Women's Olympiads, China was undoubtedly the favorite. Longtime captain Ye Jiangchuan lead the team here, too.
India
All the top players from this chess powerhouse came to play as well, including legendary former World Champion Vishy Anand, up-and-coming star Vidit Gujrathi, elite fixture Pentala Harikrishna, plus Adhiban Baskaran.
Their top female players are present as well, including Cairns Cup winner Humpy Koneru and Harika Dronavali. Anand is playing and serving as captain, while former World Champion Vladimir Kramnik is an adviser to the team.
Russia
This team is formidable as well, led by Candidates' co-leader Ian Nepomniachtchi, the rising Vladislav Artemiev, former Challenger Sergey Karjakin, and former Candidate Dmitry Andreikin.
Their female players include recent Women's World Championship Challenger Aleksandra Goryachkina and current Russian Women's Champion Olga Girya. Their captain is the experienced Alexander Motylev.
United States
Their "Top 3" are here: 5-time US Champion and former World #2 Hikaru Nakamura, current World #2 and recent Challenger Fabiano Caruana, and perennial Top 10 Wesley So. Also playing for the team is recent arrival Leinier Dominguez.
Two stalwarts of US Women's Chess, 7-time US Women's Champion Irina Krush and 4-time US Women's Champion Anna Zatonskih make their appearance as well. The team is lead by John Donaldson, who has captained US Olympiad teams since the 1980s.
Team Europe
A mix of players from different nations is led by Candidates co-leader Maxime Vachier-Lagrave of France, former World #2 Levon Aronian of Armenia, and former World #3 Anish Giri of the Netherlands, who is playing as a reserve. Board 3 is Poland's Jan-Krzysztof Duda.
Their female team members are Ukraine's Anna Muzychuk and Georgia's Nana Dzagnidze. Oh yeah, I almost forgot: their captain is the greatest player ever, Garry Kasparov!
Team Rest of World
Teimour Radjabov (Azerbaijan) has returned to the top with a bang, and he is joined by young star Alireza Firouzja who has not chosen a country to represent after leaving Iran. Bassem Amin (Egypt) and Jorge Cori (Peru) represent Africa and South America, respectively.
Former Women's World Champion Mariya Muzychuk (Ukraine) and Dinara Saduakassova (Kazakhstan) round out their lineup. They are captained by FIDE President Arkady Dvorkovich, who I had the pleasure of meeting in person at a tournament in 2019.
Round Robin Phase
China dominated the first part of the FIDE Online Nations Cup with 17 match points (+8=1-1). They drew Russia in Round 3, and only lost to USA in Round 10 when they had already clinched the top spot in the final.
The race for the other final spot came down to USA (+6=1-3) and Europe (+5=3-2). Each squad finished with 13 match points, but USA got the spot in the final by scoring 22 game points to Europe's 21.5!
The other teams — Russia, India, and Team World — fell out of contention early on.
Superfinal
China earned draw odds in the Mother's Day final match, which I have to agree with. There should be a reward for winning the first, 10-round phase of an event like this. In one match, anything can happen.
Still, it was too much for the USA to overcome. On paper, China had an advantage anyway, especially on Board 4, with the strongest active female on the planet Hou Yifan facing my friend Irina Krush. I had no doubt America's only female Grandmaster would bring her best, and she held a draw rather comfortably despite being massively out-rated.
To win the match, USA needed two points out of the three remaining games, and it was just not to be. Hikaru Nakamura and Ding Liren drew a very double-edged game on Board 1, while Fabiano Caruana pressed Wei Yi on Board 2 and Yu Yangyi pressed Wesley So on Board 3.
Caruana and Yu both won, which was fitting because they were the two best performers in the entire event. The match was drawn 2-2, and China won the first FIDE Online Nations Cup.
Will this event become a fixture in the future after we (hopefully) defeat COVID-19? I hope so!