Vugar Gashimov (1986-2014) was a top player from Azerbaijan who was dogged with ill health for much of his life. Despite this, he rose as high as World Number 6 in November 2009.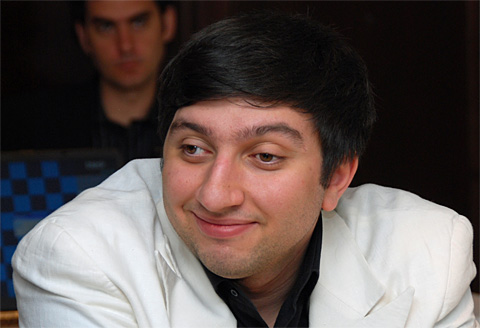 Gashimov reached a peak rating of 2761 in January 2012, the same month as Wijk aan Zee. As it turned out, this would be his last tournament … epilepsy and a brain tumor forced him to retire from chess at just 25 years old. He died two years later, only 27, reminiscent of Pillsbury, Charousek, and other top talents a century before.
His notatble tournament victories include the Cappelle la Grande Open (2007 and 2008), the FIDE Grand Prix (2008) in his home city of Baku, and Reggio Emilia (2010/2011). He also won the decisive last round game that clinched gold for Azerbaijan at the 2009 European Team Championship.
The Gashimov Memorial has been held annually since 2014 in Shamkir, Azerbaijan.
Gashimov wins a minature against the formidable Boris Gelfand. The Belarusian-Israeli legend was only the fifth player in chess history to achieve a 2700 Elo rating (after Fischer, Karpov, Tal, and Kasparov). He nearly reached the chess Olympus in 2012 when he drew a 12-game World Championship match with Viswanathan Anand (+1 =10 -1) but lost the rapid tiebreak.
White to play. How did Gashimov end the game quickly after Gelfand's untimely castling?
11. ?
Not-so-Boring Petroff